BOY'S CHOIR OF THE CHORAKADEMIE
2006-09-06 • The boy's choir of the Chorakademie (choiracademy) at the concerthouse in Dortmund, one of the largest sing-schools in Europe presented both national anthems before the opening game. Under the special direction of Jost Salm the choir amazed fans and players from both sides, particularly after the Indian anthem was finished.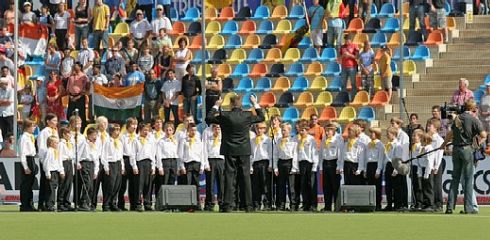 Salm has a 14-year experience working with the Tölzer boy's choir where he worked as the co-leader. Within the first year he starts off with the voice education of the students, who then move on to become solo-singers or members of the choir. In Salm's opinion the early education of the students promotes the ability of teamwork, a social attitude, independence and self-discipline. All those factors are important for the personality of a young student.
The choir will perform again in the Warsteiner Stadium before the final of the BDO Hockey World Cup.