BARRY DANCER: "I'M TOTALLY IMPRESSED BY THIS STADIUM!"
2006-07-12 • Australian coach, Mr. Barry Dancer made a very positive statement about the new Hockey stadium after his arrival in Mönchengladbach: "I'm totally impressed by the new stadium. It is a great thing for German Hockey, but also for hockey in general. We are very happy that we have the opportunity to test the stadium already now."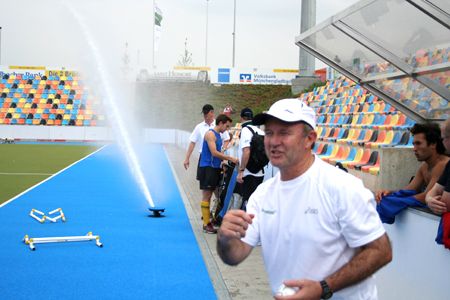 Barry Dancer at the Warsteiner HockeyPark
In preparation for the Champions Trophy in Terrasse (July 22nd - 30th, 2006) the teams of Germany and Australia will meet on Friday evening, July 14th at 7.00 p.m. at the Warsteiner HockeyPark for an official match. Entrance will be free of charge.
Dancer does not agree to what many experts say, that Australia will the main favorit team at the World Cup: "For me this World Cup will be the very tightest since a long time. I can see 6 top teams ready to win the WC. And none of these teams I would want to define as the favorite." The weather in Germany at that time will also help teams to get closer together because there will not be these extreme climate conditions - like in Malaysia 2002 - whereby the fittest teams would be in the advantage.
Dancer also told us that he and his team is going to test all side conditions such as the Hotel or the way from the Hotel to the venue. Very important is the question: where is it possible to have the cooling-down ice-bath after each match which the Australians are used to take now-a-days.